For Social Workers & Health Care Professionals
Join Delta Center and AARP virtually for our first of four Lunch and Learns. On day one, you will learn "All Things AARP." You will be surprised to learn all the services AARP has available.
Delta Center presents the 3rd Annual Aging with Dignity Conference Speaker Series.
Every Thursday in October from 12:30pm – 1:30pm CST.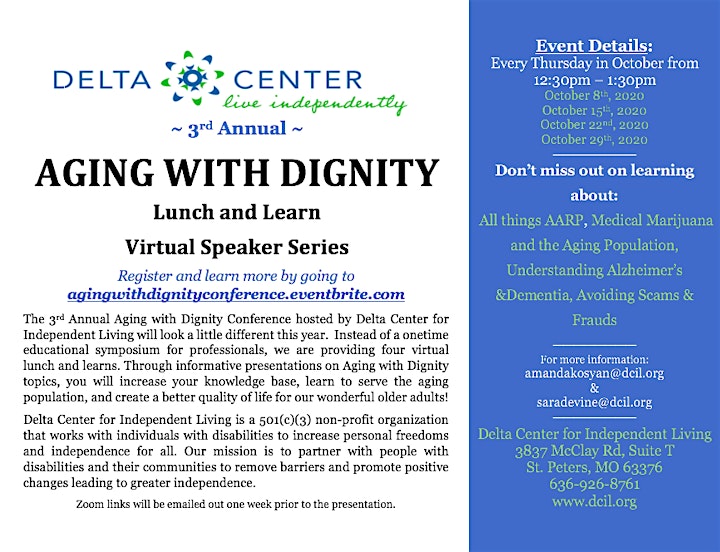 For more information, see the our flyer.
You can register by going to https://agingwithdignityconference.eventbrite.com
About this Event
Delta Center is hosting its 3rd annual Aging with Dignity Conference to educate the community on topics related to the aging population. Delta Center wants to address this need and provide the community and those who work with older adults with the information and resources available so you can help others age in place. Through informative presentations and discussions on Aging with Dignity topics, you will increase your knowledge base, learn to serve the aging population, and create a better quality of life for our wonderful older adults!
**DUE TO THE COVID-19 PANDEMIC, our annual conference will be hosted on a virtual platform for the year 2020.**
PRESENTATIONS INCLUDE:
10/8/2020– All Things AARP by the St. Louis Chapter of AARP
10/15/2020– Medical Marijuana and the Aging Population by Dr. John Judd, MD.
10/22/2020– Understanding Alzheimer's and Dementia by the Alzheimer's Association
10/29/2020– Protecting Yourself from Fraud and Scams by the St. Louis Division of the FBI
Zoom link will be emailed one week prior to presentation.